Before I began this course all I knew about reading music was when the notes went up or down on the page, so should my voice.
I sang by ear and repetition, lots of it, to learn something complicated.
Then your lessons came along.
Going through the course I learned what all that stuff on the page meant and what I was supposed to do with it.
It was like a map that now I had the key to.
I was learning what the notes were supposed to sound like and I was gaining confidence.  
I am so happy I took this course and am so grateful to you for doing this for altos!
You helped me more than you will ever know.
~ Pam W. , Graduate of the Alto Confidence Course
---
Despite my love of singing, I felt frustrated and a bit inferior because I can't read music.
April listened. And she understood. I think she was just born to do this.
Her calm approach and sense of humour make it really easy to follow her lessons – and I'm learning all the time as I follow her guidance.
~ Gill P., choir member in the UK
---
I used to play violin and bass guitar, but reading music for voice is totally new for me.
I really appreciate how you have set up your instruction lessons, they are very helpful.
~ Pam G., choir member in Canada
---
I use the resources from "For Altos Only" for my church choir rehearsals. Thank you!
~ Lynette M., worship leader in the USA
---
This music guide is perfect for choir. Thanks for your insight into what we need!
~ Charlotte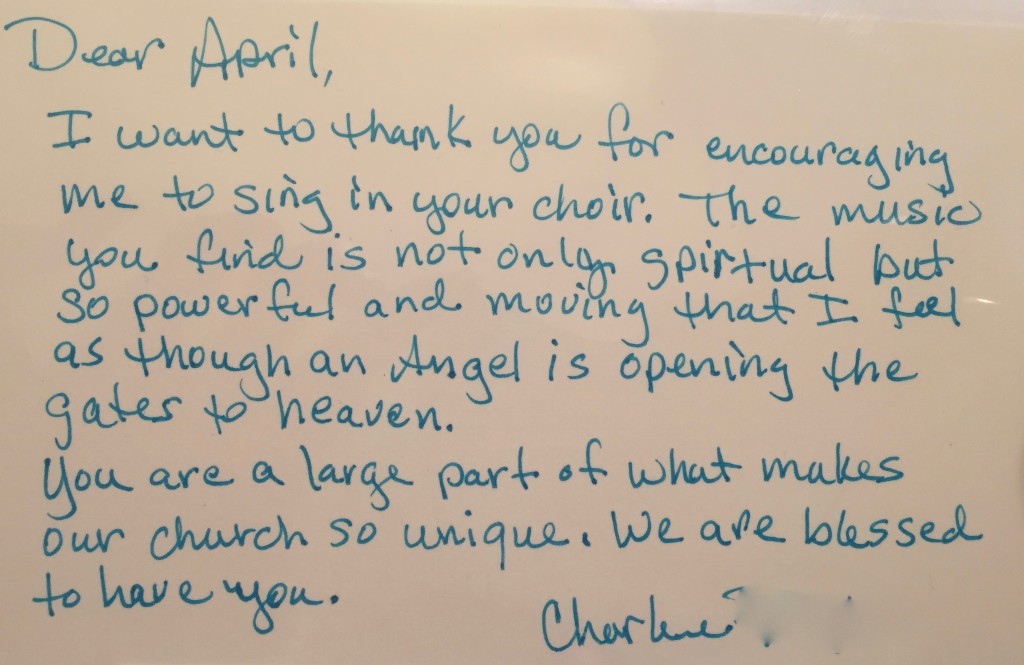 ---
April Ebeling is passionate about making music and helping others to do the same. She helps altos around the world develop confidence in their singing through online courses, support groups, and articles. April started her professional singing career as lead vocalist with Navy Band New Orleans and holds several degrees in music. For more information on her music, visit AprilSingsalot.com.